With prices for Welsh wool reaching an all-time low this season, an initiative has been launched by an Anglesey-based social enterprise to bring added value to this natural resource.
A Menter Môn-lead project, 'Made with Wool' will bring partners together from across the country to realise the potential of wool as a sustainable and renewable resource. The aim is to promote opportunities and trial innovative new products.
Dafydd Gruffydd is Managing Director of Menter Môn, he welcomed the launch of the initiative. He said: "We look forward to working with partners to build on our research which shows that there is real potential to this sector which has a distinct Welsh identity. Our aim is to add value right across the supply chain from farm to end product"
He added: "With its unique properties and as a naturally biodegradable resource, wool offers itself to a wide range of uses and products. At Menter Môn we've already started experimenting with it in some of our other projects, including our vertical farming scheme, Tech Tyfu as it holds water so well. In the future amongst other things, we hope to use it as a natural insulator in food packs for the self-catering tourism sector."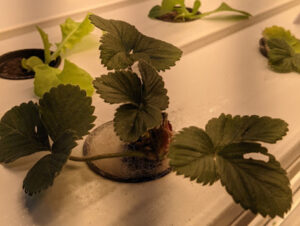 Minister for Rural Affairs and North Wales Lesley Griffiths MS, said:"I am very pleased to see funding from the Rural Development Plan is supporting this important project by Menter Môn."
"Wool is a natural resource which we are very fortunate to have in Wales, and it is important that we look at ways to maximise its potential so farmers and the wider community can benefit.
"There are many ways natural wool can be used, and I hope this project will result in Welsh wool being used in a number of innovative and productive ways."
Gareth Jones, Head of Producer Marketing at British Wool said: "British Wool looks forward to working with Menter Môn and the wool sector in Wales on the Made with Wool project.  Being a project partner, enables us to use our knowledge and expertise within the sector and to make a positive contribution in identifying opportunities to support the wool sector and wool producers in Wales."
The launch of Made with Wool follows research carried out by Menter Môn under the Arloesi Gwynedd Wledig banner which focussed on the current state and potential of the wool industry in Wales. As the project develops Menter Môn also aims to draw on expertise from several of its other projects including providing business support from the Enterprise Hub and various LEADER programmes.
This project has received funding through the Welsh Government Rural Communities – Rural Development Programme 2014-2020, which is funded by the European Agricultural Fund for Rural Development and the Welsh Government.