Menter Môn is working to establish a Hydrogen Hub in Holyhead. Holyhead Hydrogen Hub will kick-start the green hydrogen supply chain on Anglesey under local ownership developed by Menter Môn.
On Monday the 13th of September, Guto Owen – Menter Môn's Hydrogen Director and Dafydd Gruffydd – Menter Môn's Managing Director represented the Hub in a discussion regarding London International Shipping Week and opportunities for hydrogen in the sector. The evening was hosted in Whitehall, London by the Secretary of State for Wales, Simon Hart MP. The main purpose of this visit was to discuss the potential of the Hydrogen Hub and its potential role in decarbonising the maritime sector as well as creating local employment. The scheme also complements and adds value to the Anglesey Energy Island Program.
Hydrogen is recognised as being vital for decarbonisation (and clean air) across the global economy and Menter Môn is focusing on green hydrogen, produced from renewable energy and water, to guarantee a zero emission fuel supply, therefore avoiding any carbon emissions in the supply chain.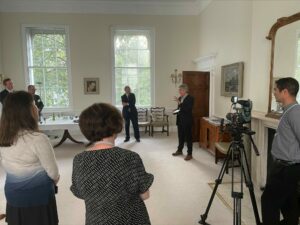 Guto said: "Menter Môn is taking urgent action in areas of critical importance to the green economy, which are contributing to improving the quality of life now and for future generations."
With the Cop26 Conference underway and the IPCC Report recently published, it is encouraging to see that Menter Môn is responding to topics of high importance to communities.
The Welsh Government has provided funding for the project from the Local Transport Fund to support the development work. The project is also supported as the UK Government has awarded £4.8m to the project in the Chancellor's March 2021 Budget. With such support available it demonstrates the importance of Menter Môn's work within the sector. Menter Môn is engaging with stakeholders across the region to attract international interest to the project from the high growth hydrogen sector.
The initial Hub aims to be the platform for scale-up to the large potential transport demand from HGVs and shipping at the port. It will also enable diversification into new markets such as hydrogen for heating and industry.