Over the past few months, Menter Môn has been coordinating the first Green Prescribing project on the island. By working alongside the surgery in Beaumaris, the scheme has been able to improve the wellbeing of individuals and is working towards a better quality of life for the people of Anglesey.
The purpose of the scheme is to encourage inactive adults and ones that suffer from mild to moderate mental health issues to take advantage of their community green spaces.
Once a referral is made by the GP, the individuals will attend a weekly session of 2.5 hours in a local nature reserve for 8 weeks. During the sessions they will learn more about the reserve by learning about nature and woodland skills.
Delyth Phillipps, Cwlwm Seiriol's Coordinator said: 'It's great to see the difference within these individuals at the end of week 8 to compare with how they were at the start of the project. It develops skills and is a great way to raise the confidence of individuals. This then allows them to go ahead and try new things in day to day life.".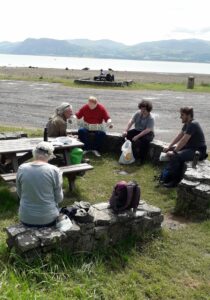 One individual who took part in the scheme noted that it was a "Very relaxed, informal, friendly environment. Each week was different, learning different skills and knowledge".
Over the past year people have become much more aware of their health, be it physical or mental. Their is no doubt that participating in outdoor activities and making the most of nature does wonders for our physical and mental health.
The project now wants to ensure that more people are aware of green prescribing and that it's being offered on the island. It also encourages anyone that is suffering from mental health problems to visit their GP.
After the success of the scheme within Cwlwm Seiriol, Menter Môn are looking forward to offer the scheme to individuals across the island.
For further information regarding the project, contact: Delyth Phillipps – 07815709240 / delyth@mentermon.com or Sioned Morgan Thomas – sioned@mentermon.com