The North Wales Fisheries Local Action Group supports the fishing industry and associated communities across North Wales.
Overview
Menter Mon &  The North Wales FLAG's response to COVID19 Pandemic.
As part of the response to COVID 19, Menter Mon has been working with fishermen from across North Wales. The pandemic has effectively closed all domestic and European markets, vital to the fisheries industry in the region.

In an effort to reduce the devastating impact of COVID 19 to the fisheries industry, we have been working on ways to develop new online markets where the fishermen can sell their catches.  We have  created the North Wales Fish Direct Facebook page.
This allows fishermen and retailers to post information on catches, enabling local people to purchase direct.  It also allows customers to post their requirements and location, matching customer and supplier at a local level.
The upshot of this support has been the creation of a number of local markets across the region. It has provided local people with fresh, sustainable fish, whilst keeping the fisheries industry afloat.
If you are a Fisherman who needs an outlet for your catches, or if you are looking to purchase fresh sustainable fish and shellfish in North Wales, visit the North Wales Fish Direct Facebook page, or search @SeafoodWales.  
In addition Menter Mon has been working in partnership with CWAIN Fishers to develop an interactive map, detailing fishers and retails selling fresh fish in Wales.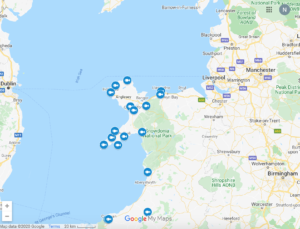 ---
About
The North Wales Fisheries Local Action Group supports the fishing industry and associated communities across North Wales. The aim of the North Wales Fisheries Local Action Group (FLAG) is to support the fishing industry and associated communities in each counties through the delivery of a range of actions and activities. The FLAG is representative of the sectors it supports and will encourage a bottom up approach in order to develop viable and sustainable projects. The North Wales FLAG will contribute towards achieving this aim by pursuing the following objectives: 1. Adding value to fishery products 2. Encouraging diversification of economic activity 3. Preserving and enhancing the environmental, cultural and social welfare 4. Empowering the local fishing communities